This is a classic coin operated video arcade game presented in a miniature cabinet or "cabaret" which features an attractive wood grain finish. Its trimmed down size makes it ideal for those game rooms with limited space.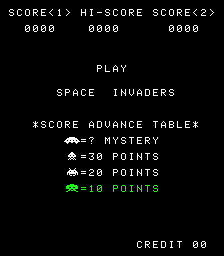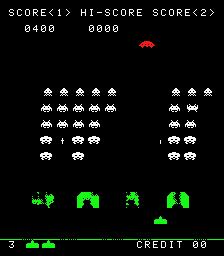 All video arcade games are thoroughly tested and are 100% working. Unless otherwise noted, all coin operated video arcade games come complete, including locks with keys, working coin mechanisms and the operation manual for the arcade game. These are real arcade game machines.
---
SELECT IMAGE - CLICK TO ENLARGE
Space Invaders Video Arcade Game
The game was so amazingly popular in Japan that it caused a coin shortage until the country's Yen supply was quadrupled. Entire arcades were opened in Japan specifically for this game.
Space Invaders, along with Pac-Man and Pong, shares the notorious distinction of being one of the most duplicated, bootleged and/or hacked arcade games. 2

We make a special effort to thoroughly describe our video games so you'll know more about what you are buying. We not only tell you about its current condition. We provide you with its repair history (at least what we know about). Don't be fooled by others who claim their video arcade games to be 100% working, only to find out they meant barely working once you get the machine home. Used machines are rarely perfect and although 100% working, their conditions can vary greatly. So be sure to check out our condition statement.
COMPONENT

DESCRIPTION

RATING

NOTATIONS

Electronics

All circuit boards and wiring are in excellent condition
9.5
Very clean, no hacks

Mechanics

All controls are in excellent condition
9.5
Clean, smooth and tight

Monitor

Monitor is in very good condition, crisp, bright
8.5
Sharp, rated lower just because of its age

Cabinet

Mini upright cabinet is in excellent condition
9.0
Very solid, nice finish, some touch-up

Marquee

Marquee is in excellent condition
9.5
No flaking or visible scratches

Control Panel

Control panel is in very good condition
8.5
Overlay has only a few minor scratches

Coin Door

Coin door is in very good

condition

8.5
Credit button installed

Accessories and Miscellaneous
Notice to Customers: At the current low price, this video arcade machine is being sold in its current condition as described above. The buyer has the option to request components to be replaced or restored. This service can be provided at cost, reasonable shop charges apply.
SHIPPING CHARGES FOR COIN-OP VIDEO GAMES
Local Customers: Curbside delivery $40,
(Maryland, DC, Virginia) In-home delivery and installation $70-$110
USA Customers: Shipping provided to nearest airport,
(continental 48 states) freight charges $95-150, crating fee $45
Canada Customers: Email us for quote

1 The Ultimate Space Invaders Shrine
2 KLOV - Killer List of Video Games