Championship Sprint by Atari Games
This equipment is not currently available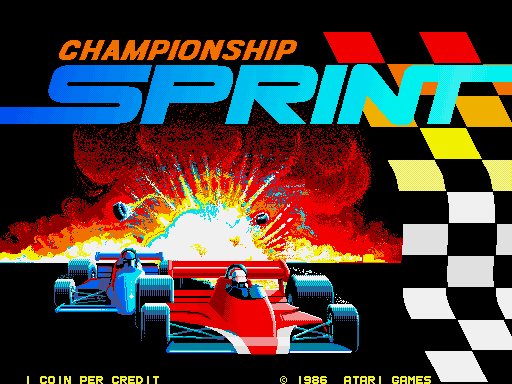 On your mark, get set, GO!
Are you looking for a less expensive upright video arcade game?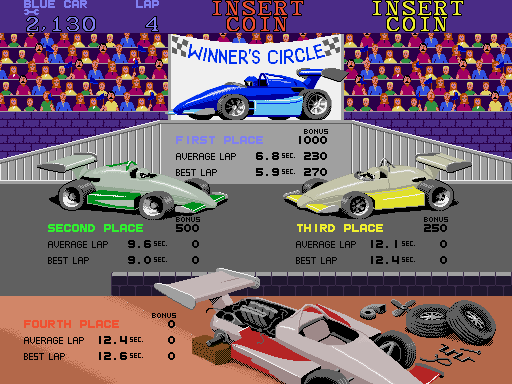 Championship Sprint is an updated version of the old Atari Sprint series with the ability to upgrade your vehicle as the game progresses. Upgrades are won by collecting wrenches that appear once per track. After you have managed to collect four wrenches, you will be presented with an upgrade screen which gives you a chance to choose better traction, top speed, acceleration, or a faster helicopter. You can upgrade every time you collect four wrenches. If you crash head-on into a barricade, it's likely that your vehicle will be destroyed. If this happens, a helicopter will automatically airlift a replacement to the track. Naturally, this takes time and at the beginning of the game, it seems like an eternity. You can improve this time by upgrading the helicopter (as mentioned previously). The replacement will have all of the vehicle upgrades that your previous car had. The tracks are all circular in nature and they vary from the simple oval to contorted tracks with many twists, turns, and bridges. There are also ramps and shortcuts that allow you to circumvent parts of the track. It's great fun with two players. (courtesy of KLOV)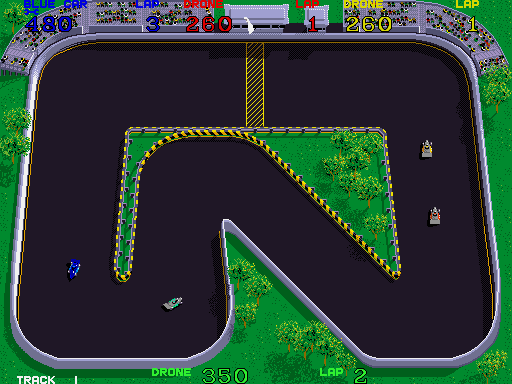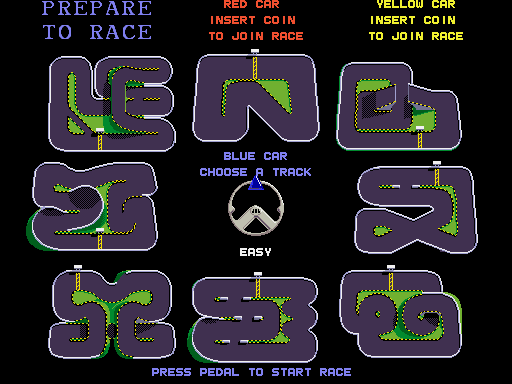 Go for a spin without leaving home
Video Arcade Games
Now Only $579

Manufacturer: Atari Games
Year: 1986
Class: Wide Release
Genre: Racing
Type: Videogame
Monitor:
Orientation: Horizontal
Type: Raster: Medium Resolution
CRT: Color
Wells Gardner 19-inch
Conversion Class: Atari System II
Number of Simultaneous Players: 2
Maximum number of Players: 2
Gameplay: Competitive
Control Panel Layout: Multiple Player
Controls:
Steering: Wheel Pedals: 2
Sound: Unamplified Stereo (requires two-channel amp)

Pictures and game information provided courtesy of KLOV

| | | | |
| --- | --- | --- | --- |
| COMPONENT | DESCRIPTION | RATING | NOTATIONS |
| Electronics | Excellent Condition | 9.5 | Very clean, no hacks, 100% functional |
| Mechanics | Excellent Condition | 9.5 | Steering, pedals, buttons are very responsive and operate smoothly |
| Monitor | Good Condition | 7.5 | Colorful and clear, no burn-in, horizontal fade line towards top of screen |
| Cabinet | Very Good Condition | 8.5 | Solid with locking back panel, freshly painted no side art |
| Marquee | Excellent Condition | 9.5 | Clean, bright, unfaded |
| Control Panel | Excellent Condition | 9.5 | Sharp looking, very, very little wear |
| Coin Door | Excellent Condition | 9.5 | Freshly painted, no dents |
| Accessories and Miscellaneous | | | |
Prices and conditions are accurate at the time they are posted. Changes can occur between updates.
Prices and conditions may not reflect changes at the time they are viewed.
Please contact us for the most current information
Images and/or narrative may have been provided courtesy of KLOV - Killer List of Video Games
and were posted on this page as a matter of convenience
and is NOT an attempt to claim or imply ownership or authorship of this material
Brand new video arcade machines are available only through advanced purchase
and are delivered direct from the manufacturer in its original packaging
All equipment purchases can be made in person or over the telephone
We accept cash and personal checks
Credit cards may only be used to purchase new equipment
Equipment prices do not include shipping, delivery, transportation, crating, installation, insurance or tax
These charges vary and will be calculated prior to the sale
All payments must be received before equipment is delivered
Warranty is included with equipment purchased by local customers
Free telephone tech support provided to all customers

Brand New and Used Video Arcade Machines
for sale in Maryland, DC and Virginia
Premier Amusements
443-450-4445

PINBALL VIDEO ARCADE REPAIR LEASING
HOME ABOUT US CONTACT US REFERENCES
Pinball Machines Maryland - Pinball Repair - Video Arcade Machines Maryland