---
<![if !vml]>

<![endif]>
---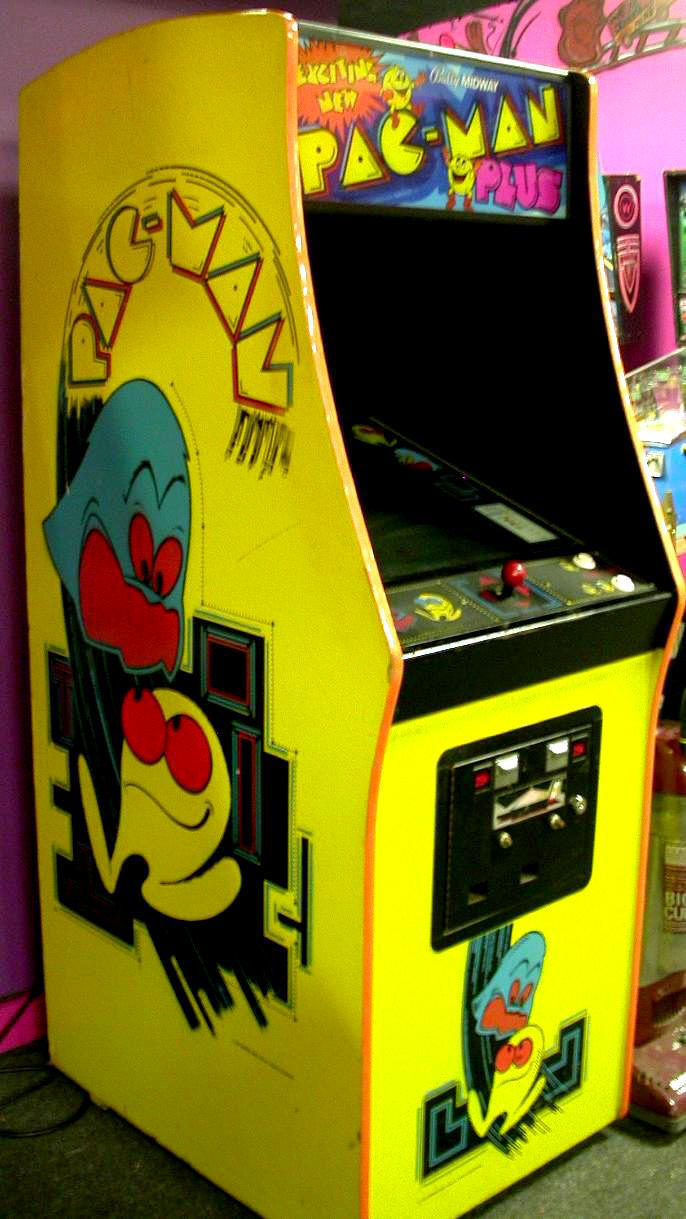 Description
Looking for a classic video arcade machine? Well, here is a beauty. Pac-Man Plus was manufactured in 1982 and was an official upgrade to the original Pac-Man. The game plays exactly the same as the original Pac-Man with a few added bonuses.
Features This machine is all original, just as it was made over 20 years ago. The cabinet is in remarkable condition considering its age. The monitor displays crisp and bright images. <![if !vml]><![endif]>
All video arcade games are thoroughly tested and are 100% working. Unless otherwise noted, all coin operated video arcade games come complete, including locks with keys, working coin mechanisms and the operation manual for the arcade game. These are real arcade game machines.

---

SELECT IMAGE - CLICK TO ENLARGE

Pac-Man Plus Coin-op Video Arcade Game

We make a special effort to thoroughly describe our video games so you'll know more about what you are buying. We not only tell you about its current condition. We provide you with its repair history (at least what we know about). Don't be fooled by others who claim their video arcade games to be 100% working, only to find out they meant barely working once you get the machine home. Used machines are rarely perfect and although 100% working, their conditions can vary greatly. So be sure to check out our condition statement.

CONTACT US TO PURCHASE THIS VIDEO ARCADE MACHINE

COMPONENT

DESCRIPTION

RATING

NOTATIONS

Electronics

All circuit boards and wiring are in excellent condition
9.0
Very clean, no hacks

Mechanics

All controls are in excellent condition
9.0
Clean, smooth and tight joystick action

Monitor

Monitor is in excellent condition
9.0
Sharp

Cabinet

Upright cabinet is in very good condition
8.5
Very solid, all original, t-molding is nicked up in places

Marquee

Marquee is in excellent condition
9.5
No flaking or visible scratches

Control Panel

Control panel is in excellent condition
9.5
Buttons and joy stick in excellent shape.

Coin Door

Coin door is in

excellent

condition

9.5
It's original, No dents. Looks almost new

Accessories and Miscellaneous
Prices and conditions are accurate at the time they are posted. Changes can occur between updates.
Prices and conditions may not reflect changes at the time they are viewed.
Please contact us for the most current information
Images and/or narrative may have been provided courtesy of KLOV - Killer List of Video Games
and were posted on this page as a matter of convenience
and is NOT an attempt to claim or imply ownership or authorship of this material
Brand new video arcade machines are available only through advanced purchase
and are delivered direct from the manufacturer in its original packaging
All equipment purchases can be made in person or over the telephone
We accept cash and personal checks
Credit cards may only be used to purchase new equipment
Equipment prices do not include shipping, delivery, transportation, crating, installation, insurance or tax
These charges vary and will be calculated prior to the sale
All payments must be received before equipment is delivered
Warranty is included with equipment purchased by local customers
Free telephone tech support provided to all customers

Brand New and Used Video Arcade Machines
for sale in Maryland, DC and Virginia
Premier Amusements
443-450-4445

PINBALL VIDEO ARCADE REPAIR LEASING
HOME ABOUT US CONTACT US REFERENCES
Pinball Machines Maryland - Pinball Repair - Video Arcade Machines Maryland