Pinball Machine by Stern
Please call to confirm availability
The greatest pirate adventure of all-time is now the popular pinball machine from Stern Pinball, Inc. Disney's Pirates of the Caribbean pinball features exciting elements from the first movie, as well as the box office record-breaking, Disney's Pirates of the Caribbean/Dead Man's Chest.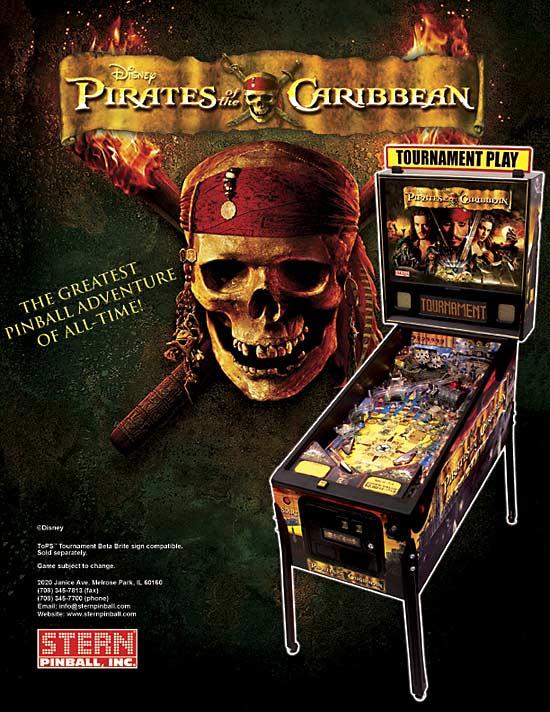 443-450-4445
PINBALL SALES
DC MARYLAND AND VIRGINIA
CONTACT US TO PURCHASE THIS PINBALL MACHINE
Please call to confirm availability

Disney's Pirates of the Caribbean offers the following features:
A mechanical pirate ship that the player strikes with the pinball. With each hit, the ship lowers its sails and eventually sinks into the playfield, thus revealing a shot into the Kraken's mouth. In this area, the player can sink the ship, destroy the Kraken, and fight Davy Jones.

A mechanical treasures chest, the Dead Man's Chest, through which the player can shoot the ball. When the player has the KEY, the chest opens. They can then spell H-E-A-R-T to begin HEART multi-ball.

A contained spinning rubber disk where the player can capture up to three pinballs. The disk bounces them around in the contained area and holds them for an extended period of time till the player starts multi-ball. The disk sometimes represents Tortuga and other times Port Royal.

A map compass comprised of playfield inserts that shows the player each feature they need to finish. Complete all eight features and play Four Winds Multi-ball.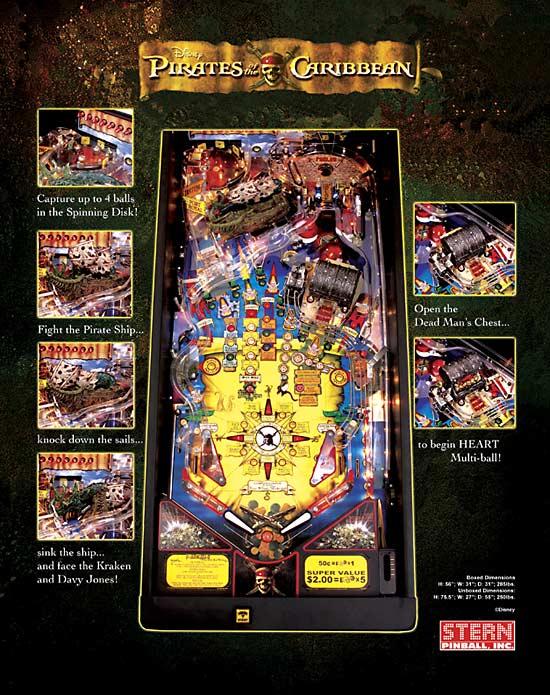 CONTACT US TO PURCHASE THIS PINBALL MACHINE
NOTE: Price and descriptions reflect the current condition of this machine. Descriptions will be updated and the price may change if repairs are made or upgrades are applied to this machine. This page was last updated on November 15, 2006
| COMPONENT | DESCRIPTION | RATING | NOTATIONS |
| --- | --- | --- | --- |
| Electronics | Brand New | 10.0 | - |
| Mechanics | Brand New | 10.0 | - |
| Playfield | Brand New | 10.0 | - |
| Cabinet | Brand New | 10.0 | - |
| Back Glass | Brand New | 10.0 | - |
| Display | Brand New | 10.0 | - |
| Plastics | Brand New | 10.0 | - |
| Back Box | Brand New | 10.0 | - |
| Other | Brand New | | - |