Roller Coaster Tycoon by Stern

Picture courtesy of Stern Pinball

443-450-4445
PINBALL SALES
DC MARYLAND AND VIRGINIA
CONTACT US TO PURCHASE THIS PINBALL MACHINE
Please call to confirm availability

One of Stern's finest products, originally produced in 2002

Picture the ball on a ramp as you would a rider on a roller coaster. The playfield has 4 roller coasters, including "The Flying Ghost," "The Flying Turns," an inverted ramp coaster called "The Chicago Loop," and the "The Rocket," a coaster that blasts the ball almost to the playfield glass before sending it on a wild ride around the playfield.
Other rides and features include the "Scrambled Eggs" spinning ride, the pop bumper Bumper Cars, the Handyman drop target, the Maintenance Men stand-up target, the hysterical Dunk the Dummy side attraction, and an information kiosk that gives out random awards.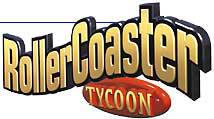 The ROLLERCOASTER TYCOON pinball machine is designed by PatLawlor Design. Pat has been responsible for many of the most famous titles in the history of pinball, including The Addams Family, Twilight Zone, Funhouse, and his most recent hit, Stern's MONOPOLY. The ROLLERCOASTER TYCOON pinball machine is made in the great tradition of these classic pinball machines.
Amusement park theme games have always done exceptionally well in coin-op. Cyclone and Comet were among the most successful pinball machines of all-time, posting strong earnings for many years after their initial production. Stern's ROLLERCOASTER TYCOON pinball machine takes the concept of the amusement park to an entirely new and exciting level, and promises to be a strong earner for a very long time.
Stern's pinball machine is based on the popular RollerCoaster Tycoon® CD-ROM game from Infogrames, Inc. RollerCoaster Tycoon was introduced in 1999 and has since sold over 5 million copies, making it them most popular amusement park game ever made for the PC. The ROLLERCOASTER TYCOON pinball machine will not only appeal to the traditional base of coin-op players, but it will generate interest among the millions who have played the PC game.
Complimenting the release of Stern's new pinball machine will be the introduction of Infogrames' RollerCoaster Tycoon 2®, a sequel to the popular PC game. Featuring 25 roller coasters from five Six Flags theme parks, the new RollerCoaster Tycoon 2 will produce major media attention that will make Stern's pinball machine a perfect title for visible street locations everywhere.
The ROLLERCOASTER TYCOON pinball machine is endorsed by A.C.E., the American Coaster Enthusiasts. This 8,500-member association brings together roller coaster riders from all over America and the world through the promotion of coaster riding tours, newsletters, and publicity events. A.C.E. members are so excited to see the new ROLLERCOASTER TYCOON pinball machine that they will feature it in their newsletters and exhibit it at their booth at industry trade shows.
The ROLLERCOASTER TYCOON art is immediately recognizable by those who have seen the PC game and is perfect for pinball. Created and adapted by long-time pinball artist John Youssi, the ROLLERCOASTER TYCOON pinball machine art features some of the finest ever to be put on a game. The pinball machine also features the roaring sounds of roller coasters, as well as fantastic voice-overs and music. Pat Lawlor says, "The ROLLERCOASTER TYCOON pinball is sure to be the kind of hit that will be an industry standard for years to come!"
Narrative provided by Stern Pinball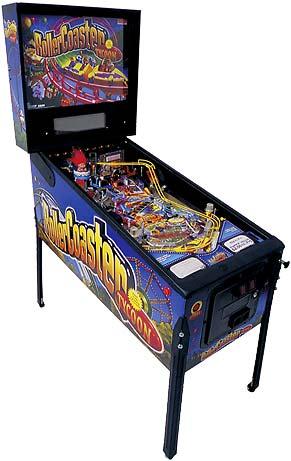 CONTACT US TO PURCHASE THIS PINBALL MACHINE
NOTE: Price and descriptions reflect the current condition of this machine. Descriptions will be updated and the price may change if repairs are made or upgrades are applied to this machine. This page was last updated on November 17, 2004
| | | | |
| --- | --- | --- | --- |
| COMPONENT | DESCRIPTION | RATING | NOTATIONS |
| Electronics | Excellent condition | 10.0 | Clean, almost brand new |
| Mechanics | Excellent condition | 9.5 | Flippers and bumpers are strong and responsive |
| Playfield | Excellent condition | 10.0 | Almost as shiny as the day it was made. |
| Cabinet | Excellent condition | 9.5 | Very few blemishes |
| Backglass | Excellent condition | 10.0 | Perfect |
| Display | Excellent condition | 9.5 | It's only 2 years old, still crisp and bright |
| Plastics | Very Good condition | 9.0 | All plastics undamaged accept for edge of right ramp. Will be repaired or replaced |
| Backbox | Excellent condition | 9.5 | A couple dings but touched up and virtually unnoticeable |
| Accessories and Miscellaneous | | | Original manual, plus original owner papers |
Local customers (within 20 miles of our shop in Beltsville, Maryland) are covered by a 90 day warranty
Warranty also provided to customers within 50 miles (in-home service fee applies)
Free life time phone tech support provided to customers